During this time she:. The patient is now going out once a week to aqua aerobics and walks the dog with her partner. No cough observed and wheeze has also stopped. Patient uses the new breathing techniques frequently.
Related Articles.
Inhalation disorders.
Case Studies: Pneumonia.
Mr K was always running out of inhalers and did not recognise the early warning signs of his breathing problems, so would often leave it too late and end up in resus. Although Mr K was not registered with a GP, he was well known to the hospital respiratory team. Between January and May he was seen on more than ten occasions and then referred to the integrated community team in May Patient A is transferred out of the CCU on the fourth day and discharged on the seventh day.
What should you think if a patient with acute asthma stops hyperventilating or has a normal CO 2 level? The arterial blood gas level of a patient with asthma has changed from alkalotic to normal, and the patient seems to be sleeping.
Case Studies to Accompany Clinical Manifestation and Assessment of Respiratory Disease
Is the patient ready to go home from the hospital? His respiratory status began deteriorating three months prior to admission following an upper respiratory tract infection. Since then, he has used oxygen at home, intermittently produced large amounts of purulent, non-bloody sputum, and lost 10 pounds. Patient B works as the owner of a movie theater and is involved in his Greek Orthodox church.
Main navigation
He had been a heavy cigarette smoker and exposed to toxic chemicals during his working life. Patient B has a history of spring "hay fever" and rare asthma since puberty.
short essay on social service.
the old man who read love stories essay!
gcse catering coursework evaluation;
web mining research papers 2011!
Respiratory System Case Studies: Case study level 1 – Asthma-Community.
role of critical thinking in cross-cultural psychology.
organ donation argumentative essay!

For the past 18 years, he has had progressive emphysema with a reversible component. Two years previously, he was diagnosed with adenocarcinoma of the lung.

COPD/Respiratory Failure Case Study

He also reports an allergy to penicillin. At 12 years of age, Patient B underwent right inguinal herniorrhaphy.

Sixteen years ago, he underwent gastrojejunal anastomosis, followed by right upper lobotomy requiring tracheotomy, and right upper lobotomy for benign organized pneumonitic process. Nine years previously, an appendectomy and repair of perforated sigmoid disarticulates with peritonitis were performed.

http://dvigavto23.ru/includes/49.php

| CK Foundation

Upon admittance to the CCU, a full physical exam is conducted Table 2. Complete blood count, electrolytes, and urinalysis are all within normal limits.



michelle obamas undergraduate thesis.
msw personal statement conclusion.
Case study 1: A 63-year-old man with moderate/severe COPD and a chest infection.
Patient B is given aerosolized bronchodilators every one to two hours initially. An aminophylline infusion is administered as well. The frequency of the aerosol treatments is gradually reduced to every four hours, with supplemental oxygen administered by nasal cannula. Patient B's ventilation and oxygenation are managed and monitored by arterial blood gas results Table 3. The nurses work with a dietitian to provide small, frequent, high-calorie and high-protein meals. This approach, adapted to his anorexia, dyspnea, and previous gastric surgery, improves Patient B's nutritional status.
Patient B is transferred out of the CCU on the second hospital day and discharged five days after admission. One month after discharge, Patient B is readmitted in acute respiratory failure. He and his family decide no resuscitation should be performed, and he dies two days after readmission. Describe the pathophysiology of Patient B's chronic respiratory failure.
What changes occur when acute respiratory failure is superimposed? If you're not a subscriber, you can:. Colleague's E-mail is Invalid. Your message has been successfully sent to your colleague. Save my selection. This case study explores the management of an unusually complicated case of acute respiratory distress syndrome ARDS extending over 52 days of hospitalization. Despite the utilization of conventional medical treatments and optimum respiratory support modalities, the patient's condition worsened and death was imminent without salvage therapy.
After cardiovascular surgery consultation and spousal affirmation, extracorporeal membrane oxygenation ECMO therapy was initiated for 6 days.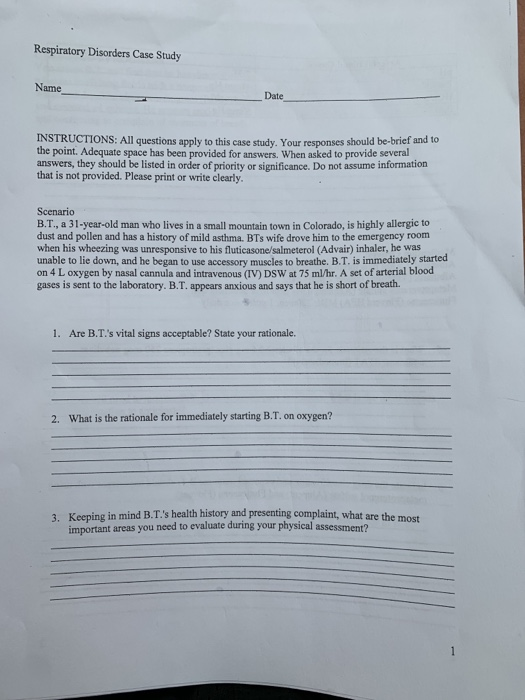 The patient recovered and was able to return to regular employment. The collaborative roles of the acute care nurse and intensivist will be discussed in association with clinical evaluation and management.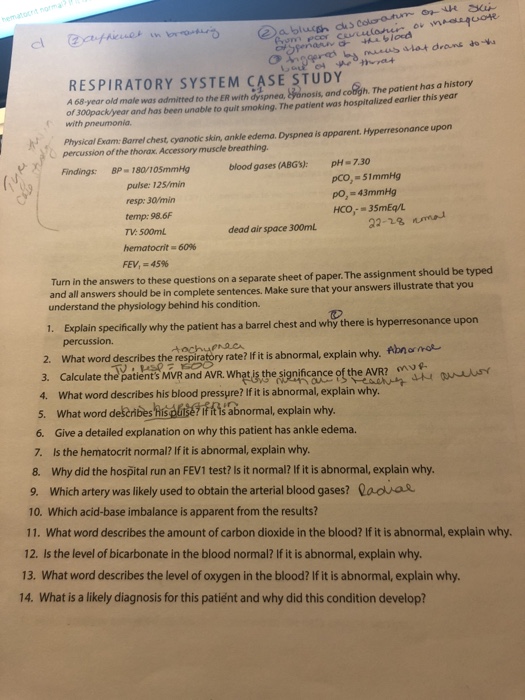 Correspondence: Susan D. Ruppert uth. You may be trying to access this site from a secured browser on the server.